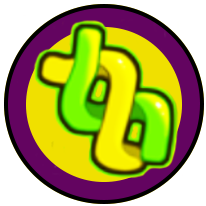 DNA
Overview
You earn DNA as you progress through the game.
DNA is used to purchase and upgrade Mutations which increase your power or change various aspects of the game itself.
You earn DNA by purchasing Crab Evolutions, Queen Levels, Mutations, and progressing further down the riverbed.
The Ecdysis screen on the Crab tab will show you Queen Level DNA, Distance DNA, and "Mutation" DNA.
Queen Level DNA
This is simply 1 DNA for every 1000 Queen Levels you purchase.
Some players only level their queens to 1200 or 2000 until it comes time to Ecdysis, then they purchase as many levels as they can.
This is not a significant source of DNA but it adds up.
Distance DNA
You start earning Distance DNA at 700 meters.
You gain more Distance DNA every 150 meters after that.
Mutation DNA
Mutation DNA is a little more complicated and where the bulk of your DNA will come from.
As a base for calculation, sum up your Queen Level and Distance DNA. Remember this as your Base DNA.
Bonus 1: Mutations give 2% bonus DNA each, up to a maximum of 72% DNA for all 36 mutations.
The gene Mutation Strand increases the 2% mutation bonus to 4% or 6% each.
Bonus 2: Completing a Mutation Set gives a 30% bonus DNA, up to a maximum of 360% for all 12 sets.
The gene Symbiotic Strand increases the 30% Mutation Set bonus to 40% or 50%.
Bonus 3: The mutation Ember Tipped Carapace (ETC) gives 10% extra DNA per level.
The bonuses are added together into one big bonus % and used to multiply the Base DNA to give you the "Mutation" DNA number shown on the Ecdysis screen.
An Example:
10 Queen Level DNA, 190 Distance DNA = total Base DNA of 200.
Unlock 5 mutations (10%), have one completed set (30%) and have ETC level 16 (160%) = total bonus 200%
On Ecdysis screen, "Mutation" DNA = 200% of the base DNA 200, or 400.
Total DNA for Ecdysis: 10 + 190 + 400 = 600.
Other DNA
Worksheets
We have a Worksheet to see how much DNA you can get on your runs.
We have another Worksheet to play around with that DNA and decide how best to spend it.
Mutation Costs
Each mutation has a DNA cost to research (unlock) that gets progressively more expensive as you unlock more of them.
| Mutation # | Cost To Unlock |
| --- | --- |
| 1 | 1 |
| 2 | 3 |
| 3 | 7 |
| 4 | 13 |
| 5 | 22 |
| 6 | 36 |
| 7 | 57 |
| 8 | 88 |
| 9 | 134 |
| 10 | 201 |
| 11 | 298 |
| 12 | 439 |
| 13 | 643 |
| 14 | 934 |
| 15 | 1352 |
| 16 | 1947 |
| 17 | 2793 |
| 18 | 3992 |
| 19 | 5689 |
| 20 | 8085 |
| 21 | 11461 |
| 22 | 16209 |
| 23 | 22877 |
| 24 | 32227 |
| 25 | 45319 |
| 26 | 63628 |
| 27 | 89202 |
| 28 | 124883 |
| 29 | 174613 |
| 30 | 243856 |
| 31 | 340179 |
| 32 | 474057 |
| 33 | 659976 |
| 34 | 917967 |
| 35 | 1275704 |
| 36 | 1771407 |