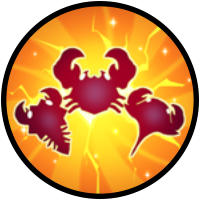 Midas Swarm
Cost: 8 Gene Points
---
Drops 2% reptile gold when a Shadow Swarm crab hits a reptile.
This is based on "normal reptile gold" and does not change if you are facing a gold reptile or a boss reptile.
Mutations for "normal reptile gold" and "all gold" have an impact on this.
This mean a maximum gold output of 100% reptile gold every 5 seconds.
See this article for more information on gold.
---
Should I Get It?
On paper this sounds nice, but unless you are facing a reptile that is allowing your swarm to fully hit, you may only be getting 0-2% reptile gold per reptile (as most of your runs will eventually be instant-killing reptiles as you go).
Even when facing a reptile where 100% of your swarm is hitting for the maximum rate of 100% reptile gold every 5 seconds, the output is not that great. Think about it in terms of a Golden Leech that has 100% reptile gold per tap (only level 18 of the Leech ability). Midas Swarm would represent 360 taps during the 30 minute cooldown of that leech. By the time Midas Swarm would be generating at full speed your Golden Leech is probably well over 300% per tap, reducing Midas Swarm to 120 taps of that leech in value. How long does it take you to tap 120 times?
So yes, it is worthwhile to get eventually because more gold is more gold, but it should not be a priority as it is not worth the 8 genes + the trip to unlock it in the tree until late in the game.