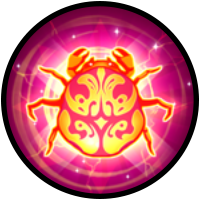 Gilded Leech
Cost: 8 Gene Points
---
Your Golden Leech will drop a nugget worth 2% of accumulated gold on each tap.
Accumulated gold does not include any of these 2% nuggets.
Example: If you get 100 gold per tap from the reptile, the first tap will give you a nugget worth 2 gold. The second tap will give you a nugget worth 4 gold, etc. If the leech exploded at that point, you would get 200 gold from the leech, and have a total of 206 gold.
For every 100 taps of the leech, your final gold take will have increased by 100%.
Meaning if you tap 10 times a second, or 300 taps total, you will receive +300% the gold that you would have gotten without Gilded Leech, for a total of 4x the gold.
Tapper Crab in the store does not work with him any longer. The old Tapper would have given you up to 900 taps.
Changes the leech graphic from a tick to more of a.. moth?
---
Should I Get It?
Yes! While the increased gold from Gilded Leech won't make you into a rockstar, you will get about 20-30% more queen levels from a Gilded Leech bounty than you would from a regular Leech with the same number of taps. I'd rank this one second (after Flitter) for usefulness of the 8 point genes.