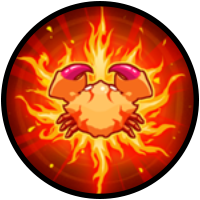 Garnet Strand
Cost: 3 Gene Points, Max: 2
---
Causes a shadow crab to spawn when a Garnet crab dodges.
The shadow crab deals 1x AVERAGE CRAB DAMAGE. It does not crit.
See this article for more information on the average stats
Does not work with Shadow Swarm crabs - only tapped crabs and queens. AppX confirmed that this is intended and is not a bug.
Having both genes does not appear to spawn a second crab, so why there are two of these is a mystery.
---
Should I Get Them?
Not unless they are on a path to something better. Even if the shadow crab could crit, you're only talking a handful of crabs (at most) doing double damage.