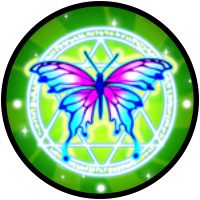 Treasure Butterfly, aka Flitter
Cost: 8 Gene Points
---
Causes the blue butterfly to drop pearls or a gem when you touch it.
You do not have to purchase the offer that he sells. The pearls or gem drop immediately upon touching him.
His name is Flitter.
Pearls are random from 1 to 10.
There is a 5% chance he will instead give you a gem. (see the Library post on Gems for more information)
Flitter has a cooldown of at least 10 minutes. If you see him, you won't see him again for at least 10 minutes. Set a timer.
---
Should I Get It?
This one is listed first because it should be everyone's priority. Gems represent the biggest increase to your damage, especially at lower levels. Even a 5% chance to get a gem makes this better than EVERY OTHER GENE IN THE TREE. The bounty of pearls you will receive along the way also contributes to this being the #1 gene. Get it. Don't even think about it. Just get it.
BONUS
Come on
Discord
and give Flitter pancakes. It will help your luck getting more gems.