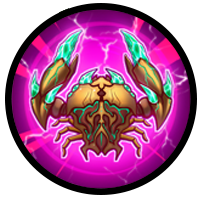 Burrower Crab
Cost: 30 Gene Points
---
Provides you with the Juggernaut's big brother, the Burrower Crab.
When activated, advances you 100m down the riverbed.
This is a one-time use ability. Like Juggernaut you have to keep buying these.
Unlike Juggernaut, however, he does not activate immediately. You will have an icon at the bottom of your game screen to activate him after purchase.
The Jade Scarab Monthly Event will reward you with 2 free Burrowers if you work to fill your Rune board.
You can also earn Burrowers for free during the Skull Bug mini-tournaments.
---
Should I Buy Them?
This is personal preference. These sorts of crabs are usually only used in a tournament. Keep in mind the maximum reward in a tournament is 10-35 gene points depending on which league youre in. Is it worth spending 30 to try and get a higher place? Do you buy $5 gift cards on sale for $8? Again, this is personal preference - but it's there if you want to buy it!